Obituary for Louis K. Scheffer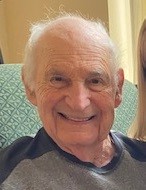 Louis K. Scheffer, Jr., age 95, of Mechanicsburg, PA, passed away on July 22 after a brief illness. Over the course of a long life, he was in turn a fine son, an exemplary husband, and a wonderful father and grandfather. He leaves behind a grateful family, many friends, and few (if any) enemies.
Lou was born June 4, 1927 in Harrisburg, PA. As soon as he finished high school, he joined the Army in 1944, where he served in Greenland and earned the rank of Sergeant. After the war, he attended Gettysburg College, where he got a B.S. in Chemistry and met his wife, Wanda. After working for a year or so, he went back to school at Bucknell University, graduating with an M.S. in Chemical Engineering. Lou and Wanda then moved to Rochester, NY, where Lou worked for Eastman Kodak for 36 years in the Paper Service Division, ultimately as Engineering Manager.
Lou managed money well (and was a notorious cheapskate), which allowed him to retire early and spend 24 years as a snowbird with Wanda, moving between Marco Island, FL and Webster, NY, with 12 more years in Mechanicsburg, PA after Wanda passed. He enjoyed golfing, fishing, skiing, tennis, boating and many other outdoor activities. He also liked all kinds of card games but most of all bridge, which brought out his competitive side – one of his few complaints in life was bridge with folks who took the game lightly. Lou also liked puzzles of all sorts, with crossword puzzles and cryptograms being his top picks.
Lou is survived by his sons, Louis K. Scheffer III (spouse Lynde Scheffer) and William A. Scheffer (spouse Eileen Scheffer) as well as 5 grandchildren (David, Amy Glowatz (Alex), Stacy Fabris (Anthony), Lucynda and Loukos) and 2 great grandchildren. He was preceded in death by his wife of over 50 years, Wanda Carroll Scheffer, and by his sister, Dorothy Scheffer Hartlieb.
A small service is planned on Tuesday, 26 July, at 1 PM in the Chapel at Bethany East. In lieu of flowers, please send donations to the American Bridge Association.